It's a connotation we don't really talk about but in the Massage Therapy world it obviously happens. It's the reason I didn't have the word 'Massage' in my brand as when I started out 17 years ago you'd be found on the interweb in a flash and asked for favours! But us Massage Therapists talk and have been getting some dodgy calls lately for sexy time whilst having to report some for inappropriate behaviour.
I've had the odd "can I come to your parlour" calls and "do you do sexy massage?" but they are few and far between. Believe me there's nothing sexy about my Massage and the only thing you'll be crying for is to stop! I've also had someone randomly on my Facebook business page asking for extras for him and his girlfriend (I can see your face you know!) but generally I keep people at bay.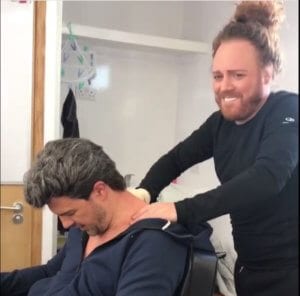 credit @keithlemon
It's not as if good old Paddy here thinks Keith is doing anything sexual but the fact he thinks it's a woman massaging him and he's enjoying it raises the subject. The issue that a man doesn't like a man touching him (i've had clients refuse a male therapist) is an interesting topic.
I'm not without my own stories so here's a couple of scenarios i've had:
i) I once had a client who due to a language barrier had his cousin present. Whilst massaging said cousin he tried to shhhh shhhh me and join in, saying he was trained.
ii) I was massaging at a pamper party when two butlers in the buff turn up (you know the naked apart from apron guys who make the hens play games whilst drinking). One sidled over saying he was trained attempting to join in. "Keep him away from me" said my client petrified. "Don't worry, I will do".
Don't get me wrong I am a bit of a tyrant who believes 'No' is a full sentence. I teach dignity and respect to my students so you imagine my response was "get the f off" giving them what I can only describe as my most spectacular RBF (Resting Bitch Face). To insinuate that it's anything other than professional is quite offensive but that's because this is my living and something I have worked hard at maintaining a good reputation at.